Wireless Site Surveys & Heatmapping
---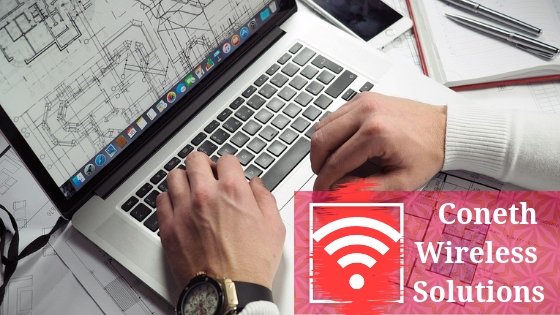 ---
The validation site survey will accurately show details of your new installation, including:
Signal Strength
Signal Coverage
Sources of Interference
PHY Rates
Signal-to-Noise Ratio
Data Rates
A fast and stable wireless network relies on proper setup.
Wireless interference and future network failures are bound to happen if proper planning involved in the deployment of wireless network is overlooked. For small and medium businesses that use wireless LAN networks for daily operations, a professional wireless site survey is greatly advised. Businesses can trust Coneth Solutions for our extensive Wireless Site Surveys and heatmapping services.
The site survey will be handled by our dedicated wireless technicians. All we need is a set of site plans and a description of your built environment. We will run your site plans through a specialized wireless software, create your virtual RF environment and analyze your location. This allows us to make some informed predictions of your Access Point count, signal level and signal-to-noise ratio, which is documented on a heat map report for you to review.
Post-deployment site surveys
Post-deployment site surveys can also be helpful to validate if the network deployed matches the client's requirements and to further perfect their WLAN. A Post-Installation Survey is usually carried out for all large or complex wireless projects and like the Pre-Deployment Site Survey, this requires a trained engineer to visit your site and run a series of tests with special software.
You'll receive a set of heat maps for your site providing an accurate visual representation of the coverage, connectivity, and capacity of your new WLAN. It will also highlight any areas that may need additional coverage, as well as any potential problem areas.
End-to-End Wireless Solution
We also handle the deployment of wireless networks. We're the best candidate for Wireless deployment as we know the optimal locations to place the wireless infrastructure (based from the wireless site survey) and the best configuration to make it work. Contact us and take advantage of our end-to-end wireless deployment offer and get the solution you need at a price you can afford.
---
With a guaranteed 1-hour response time, Coneth Solutions is the partner your organization can trust for exceptional wireless site surveys and heatmaps. Contact us to learn more about wireless networking and we can help you out.